After ten levels of play, the remaining players could be seen slowly exiting the tournament hall, visibly drained after 12 hours of poker today.
Here's a short recap of the action up to this point: Exactly half of the total entries today were already seated when the tournament kicked off at 12:00pm. The players set a slow pace befitting a 5-day tournament of this caliber. The ratio between the 1,000,000 starting stack and the initial blinds was also conductive to a more leisurely rhythm of play.
As expected, the field was full of international as well as local players.  Early on, Mark Mckee, from Ontario, and Czech Ondrej Drozd, made the first leaderboard with almost 2½ the average stack.  A couple of hours later, it was Australian Tristan Bain and Canadian Rick Beer that took hold of the top positions with approximately 3.4 million chips each.  By the time the players took a long and welcome dinner break, the tides had shifted somewhat and new leaders emerged.  Of the 230 players left, Beer and Bain were still in the top ten, and still neck to neck, but they had dropped down a few spots. Three Canadians now topped the leaderboard.  It was now Babak Forozandeh and Danick Landriault's turn at the helm, both players a few hundred thousand chips from five million.  At this time, Ami Alibay was starting to gain some serious ground as well, sitting on 4,29 million chips. At the last break, Austrians Armin Rezaei and Gerald Karlic both came out of nowhere to claim the lead with 5,600,000 and 4,965,000 chips respectively.
The shift in chips were pretty modest on average, and very few huge pots were disputed in the last hours of play.  When the last two levels came around, there was a small but perceptible surge in the eliminations. This small rise in activity was easily explained by the smaller stacks making an attempt at doubling up or going home in the last sprint to the finish line.
After all was said and done, a total of 151 players, almost half the field, qualified for Day 2. Canadian Sandy Lam bagged the most chips tonight (6,840,000) and is closely followed by German Manig Loeser who dropped 6,620,000 chips in his bag.  Loeser is the only other player besides Sandy to have bagged more than 6 million chips tonight.  Armin Rezaei managed to slightly improve on his earlier count and finished with 5,790,000 chips, securing the third spot on the chip count list. The players will be back Thursday for Day 2, and will be joined by tomorrow's qualifiers from Day 1B. To see the combined Day 1 results, click here.
Players have one other chance to get into the action of the Main Event, and that's tomorrow, Wednesday May 22nd.  The action gets underway at 12:00pm for Day 1B.  The rest of this five day event will unfold as follows:
Day 2:

 

Thursday May 23

 

at 12:00pm
Day 3:

 

Friday May 24

 

at 12:00pm
Day 4:

 

Saturday May 25

 

at 12:00pm
Day 5:

 

Sunday May 26

 

at 12:00pm
Day 1A chip leader – Sandy Lam bagged 6,840,000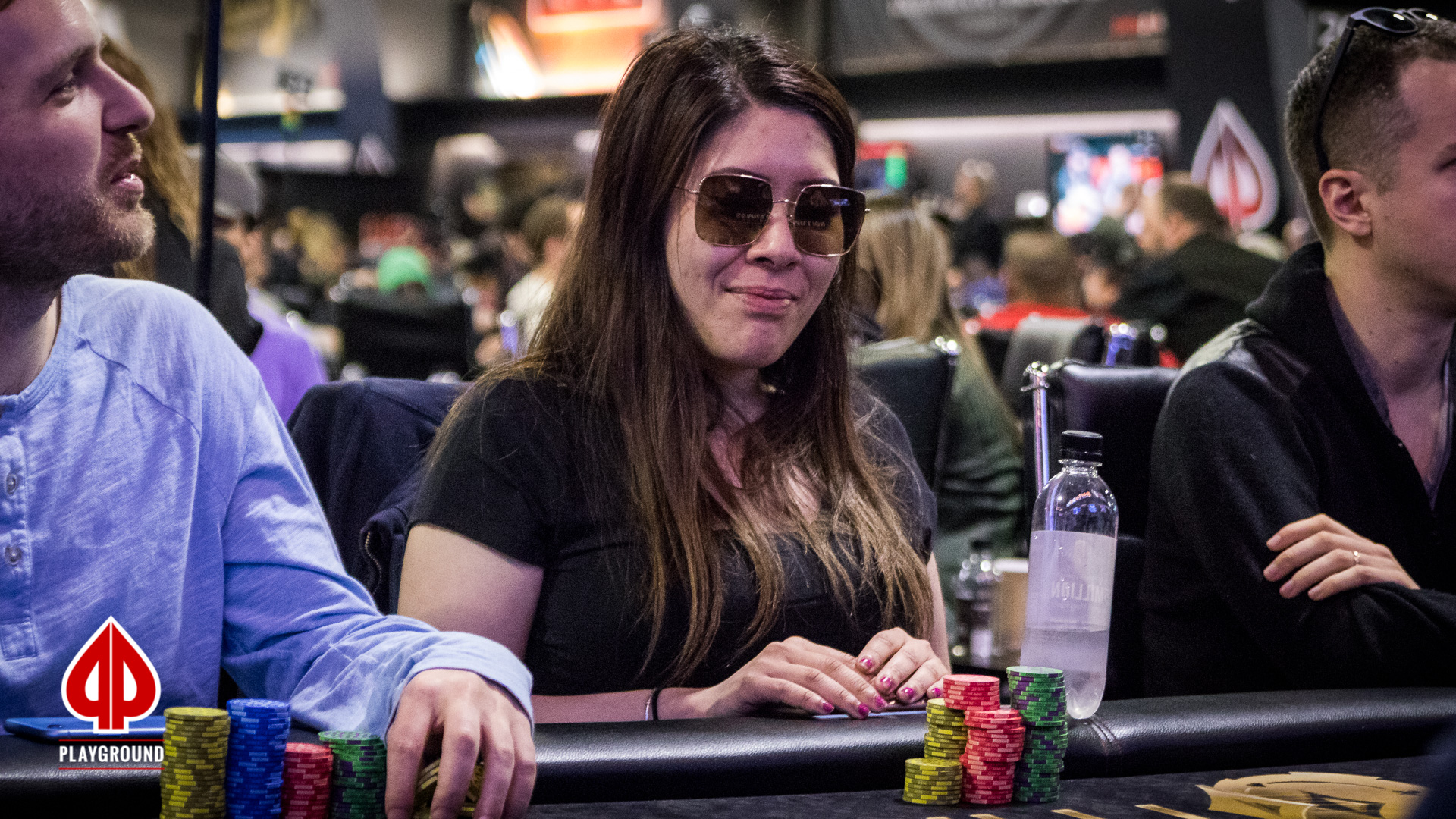 Precious cargo: taking no chances with the bagged chips.