Event #9 was a $100+10 6-Max Re-entry tournament that started at 12 noon today. There was a $5,000 guaranteed prize pool, but with 71 players (including 14 re-entries), the prize pool grew to $6,887, with the top nine players getting paid. Players had fun, enjoying the 6-max format, which allows for more space at the table and more aggressive action.
From the very start of the day, Benoit Desbiens kept eliminating many players and acquiring chips to keep increasing the size of his stack. He was on the leaderboard most of the afternoon and was the leader through the latter levels of the tournament.
Once the final table was formed, it didn't take long to get down to three handed play. Jonathan Poissant was right behind him in 2nd place, followed by Irene Tzanetopoulos, both of whom are very skilled players.
Irene and Benoit got involved in a hand that ended up sending her to the rail. They saw a flop that was showing two clubs, and when another club hit on the turn, Irene decided to shove her chip stack that had started to dwindle down, trying to represent the flush. Benoit made the call, and showed "72" for 2 pair, which was good enough for the win.  Irene exited in 3rd place, collecting $1,040 for her afternoon of poker.
After heads up play got under way between Benoit and Jonathan, they played a few orbits and Jonathan proceeded to win a few large pots, making their two stacks close to equal with each other. Since both players know each other really well (Benoit was a dealer here at Playground for 6 years and Jonathan is a local tournament grinder), they decided to make a deal between the two of them. They went with an even chop of $1,500 each, leaving and additional $147 for the eventual winner (as per Playground Event policy, 2% of the prize pool must remain and the tournament must play out to a winner).
On the final hand in play, Jonathan was holding


, and Benoit had


. The board ran out





, and just like that, Event #9 crowned a champion, Benoit Desbiens.
Event #9 Champion: Benoit Desbiens, $1,647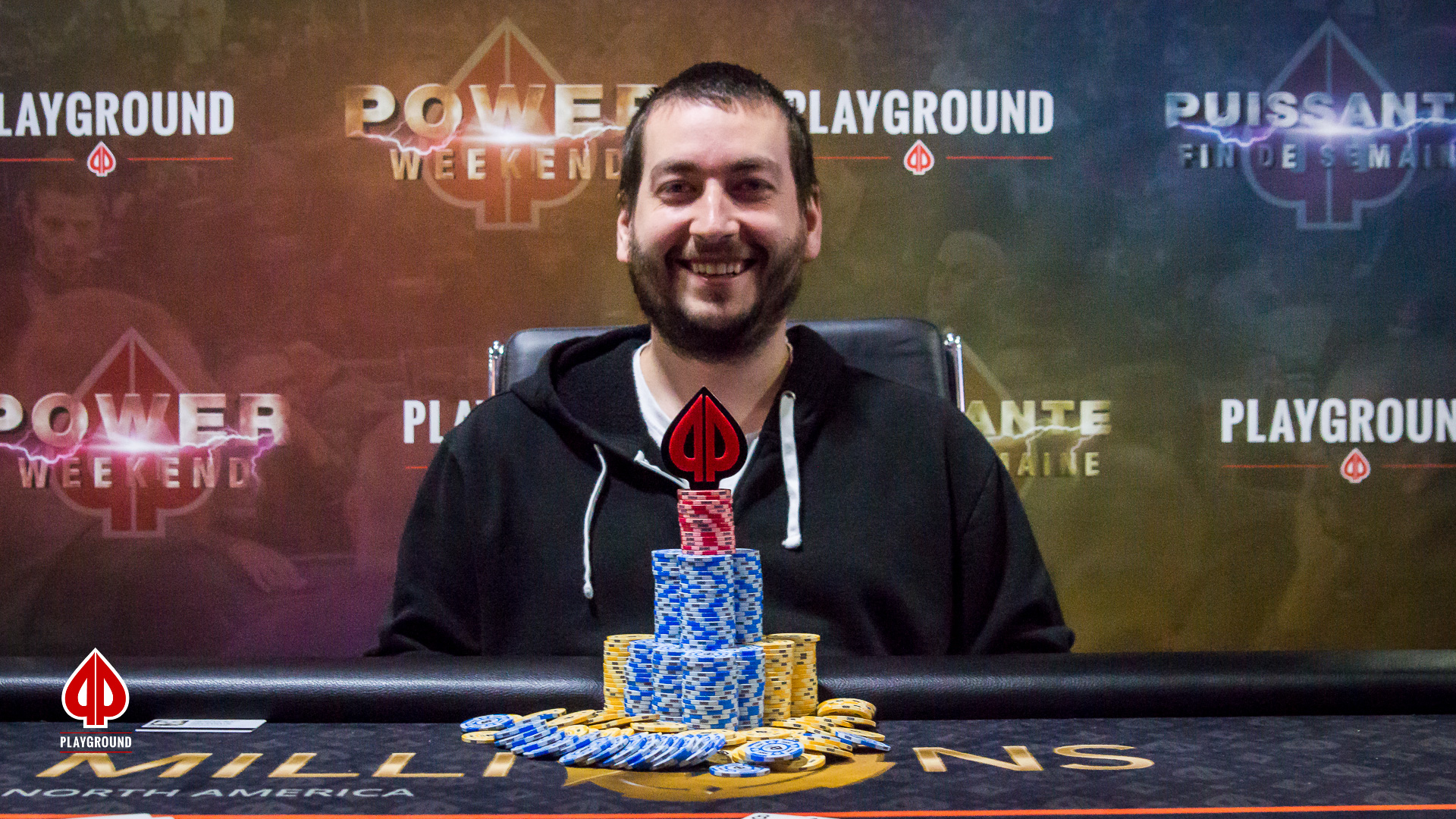 Final hand of play: