You don't know what you got 'till it's gone and live poker at Playground has proven to be one of those things. You've waited long enough ,so let's just cut to the chase and tell you what you all want to know. Poker will return after 515 days on Wednesday, August 11, 2021 at 9:00am. 
Phase one of our poker roll-out, like everything else that has been affected by the Covid-19 pandemic, will be gradual and will last a minimum of 2 weeks. The initial Phase will have a maximum of 20 cash game tables open, each table will be separated by a minimum of six feet (6') and will have a maximum of 9 players seated.

Every player will be required to wear a mask, both at the poker tables and throughout the Playground Complex. As well, our dealers, along with the rest of the Playground staff, are also required to wear masks at all times. Hand sanitizer stations will be placed within five feet (5') of every table, as well as throughout our complex, to ensure their accessibility to guests anywhere in the building and players will be required to sanitize their hands prior to being seated.
Players are permitted to lower their mask when eating or drinking, which remains complimentary, in other words, food and drinks are still FREE while seated at a cash game.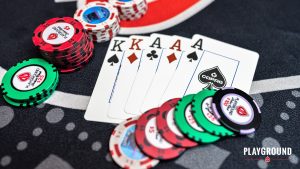 Card deck changes will be completed, in full, at the table by the dealer and as gaming chips are returned to the cashier, they will be sanitized and disinfected prior to being put back into circulation. 
When players request a table change, they will need to bring their chip stack to the cashier where they will be given fresh chips that have been cleaned and sanitized. All chairs and poker table rails will be cleaned and sanitized before and after every use, before it can be used again.

The Bad Beat Jackpot will be active and start at $100,000 and the minimum qualifying hand will be Quad T's. The Omaha Bad Beat Jackpot will also return and will start at $8,273.00 with a minimum qualifying hand of Quad 8's. Both BBJ's are exactly how they were when the last hand of poker was played at Playground.
This sums up the first phase of the return of live poker to Playground and we hope to reintroduce tournaments in the near future. We look forward to welcoming the poker community back to our tables – we missed you. Now let's shuffle up and deal!
Summary
Poker returns on Wednesday, August 11, 2021 at 9:00am.

A maximum of 20 Cash Game Tables will be open.

Masks are mandatory at the tables and throughout the Playground Complex

Food and drinks remain Free at our cash game tables

The Bad Beat Jackpot and Omaha Bad Beat Jackpot will be active.

There will be no tournaments scheduled at this time