Montreal, a tourism hot spot, is one of North America's most visited cities. Harbouring countless festivals (nearly 100 multi-day events each year!), serving delicious food from all over the world, and offering a vibrant cultural and music scene, Montreal has it all. Our snow is melting fast, and come MILLIONS North America in May, the city will be ready for all poker players' extracurricular activities!
Today, for our visitors coming to town for MILLIONS and locals looking for something different, we serve a selection of two options, catered for EDM enthusiasts, but easy to appreciate by anyone. It was extremely hard to slim down our recommendations, but these two fully deserve their nomination.
Velvet Speakeasy
In the Old Port, in the basement of an old Montreal inn, there is a large room with stone walls that has existed since 1754. Today, it is home to the Velvet Speakeasy, a club that quickly established itself as one of the trendiest clubs in Montreal.
To get to that room, you need to enter the hostel and go to the basement, escorted by a doorman. Once down below, you walk along a candle-lit corridor, and emerge in a dream world.
Candles pouring their wax on the ground. A Louis XV sofa. Dozens of bodies dancing in the smoke to the art of both emerging and world-class DJs. Sexy bartenders, almost identically dressed, distribute expensive and sophisticated drinks. Eccentric clientele, scandalous clothing. Everything is madly exciting.
Velvet Speakeasy is a getaway to a world that doesn't exist. 426 rue Saint Gabriel.
Piknic Électronik
Piknic Électronik is a highlight of the Montreal cultural circuit. Held every Sunday of every summer for the past 15 years, the event turns an urban park into a pulsing EDM party that resonates on the banks of the St. Lawrence River.
Montreal is the cradle of Piknic Électronik, which now has events all over the world. In 2012 kicked off the first international Piknic in Barcelona. Melbourne followed in 2013, then Dubai, and Santiago. Piknic Électronik is now a worldwide phenomenon.
In Montreal, the event takes place at Parc Jean-Drapeau, Plaine des Jeux, under the Calder statue. It is located on a huge island between Montreal and its South Shore. Over the years, Piknic attracted increasingly large crowds and popular DJs.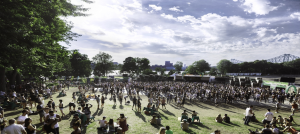 People come to have a good time, with friends, with family, in small or large groups. They come to spend a day outside with good people, to dance under the sun and stars, to the sounds of  world-class DJs, and the closer you get to any of the two stages, the younger the crowd becomes. The whole experience will redefine your idea of a music festival.
In 2019, the first Piknic will be on Sunday, May 19, at the heart of MILLIONS North America. The second Piknic will be on May 26. We hope that you will be sitting at the final table on that day, but if you're not, go have a blast at Piknic Électronik!
The Montreal metro's yellow line will bring you to the island. Get off at Parc Jean-Drapeau, and follow the music!
In the meantime, take a look at this awesome video, a short montage of 2018 Piknics!