Game 2 at The Rail
Playground wishes to extend an invitation to all basketball fans. The Rail, serving delicious food in the whole Playground complex and delivering to hungry people in the area, is the perfect place to come together at the bar and stand behind the Toronto Raptors, our Canadian NBA team!
Game 1 was an unbelievable show. The Raptors, first Canadian team to ever make the NBA finals, took a 10-point lead in the first half and held on tight in the second, winning by 9. We cannot wait to watch Game 2 on the big screen this Sunday night… where will you be?
8 hits for Berthiaume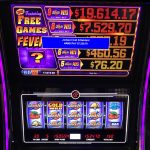 One of our biggest Jackpots of the week happened on a Quick Hit machine, an absolute player favourite. Last Tuesday, Marc-Antoine Berthiaume was playing $7.50 a spin and watching symbols align, waiting for something big to happen.
At 6:25PM, his time had come. His spin started like every other, with reels scrambling symbols randomly, but when they stopped, one by one, it was raining Quick Hit symbols! When all 5 reels were still, 8 such symbols were collected, good for $7,529.70. Congratulations!
A Perfect Match
At Playground, drinks are complimentary while you play. Have you ever wanted to try a different drink but weren't quite sure what to go with? Next time you have that feeling, consider one of our recommended EDG/drink pairings!
This week's suggestion: the lychee martini and Dragon Wheel! Dragon Wheel is a 3-reel, 5-line game featuring the Dragon Wheel Bonus Spin, which allows you to double your winnings on a single spin of the wheel. Great entertainment in all simplicity! Play it with a lychee martini in hand: A Perfect Match!
The WSOP-C returns
The next poker festival to grace the Playground felts is the WSOP-C Playground. After an unbelievable Playground debut last year, the World Series of Poker International Circuit returns from August 18 to September 2, and repeats the Main Event guarantee of $2,000,000! Check out our teaser page!