Even though Montreal Cocktail Week is almost over, you can cash in on some great cocktail and game pairings whenever you want in our EGD section! This week's pairing features a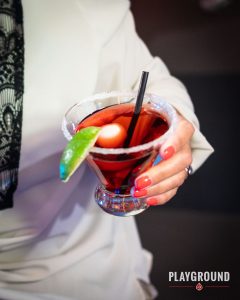 delectably sweet blend of Asian flavours and Western mixology combined with an exciting three-reel game: the lychee martini and Dragon Wheel.
Playground's lychee martini offers a new take on a traditional drink by bringing together vodka, cranberry juice and lychee liqueur. Blended together, this drink's ingredients offer a balance between the sweetness of the lychee liqueur and the tart punch of the cranberry juice before the vodka, a wedge of lime and a lychee take it to the next level.
The lychee martini is best enjoyed while taking a spin on Dragon Wheel, an exciting game where gold dragons can lead players down the road to bonus spins and big wins. This three-reel, five-line game features the amazing Dragon Wheel Bonus Spin where players can double their wins on a spin of the wheel! But there are other ways to win big on this machine. The progressive jackpot is available to anyone who plays at the max bet, making this an exciting game for players of all levels.
Dragon Wheel with a Lytchee Martini. A perfect match!
Take advantage of the complimentary drinks while you play and get yourself a lychee martini the next time you take a spin of the Dragon Wheel. It's a winning combination!