Playground, in association with the Women's Poker Association, presented the Playground Women's Series, a poker series exclusively for women! Players accumulated points through four open tournaments for a $5,000 guaranteed prize pool in each of the open events held monthly, while trying to earn a seat in the final which will play out tomorrow, Sunday January 19 at 12 noon.
The series started back in October and there were previously three open events with today marking the fourth and final event of the series. The top five finishers from each of the open events have already secured a seat into tomorrow's final, and, the top 20% of the field in each open event also earned tournament leaderboard points. The top 10 point earners from all four events also receive an entry into the grand final.
Today's event attracted a total of 56 entries (including five re-entries) which allowed the prize pool to swell to $7,588, with the top seven finishers being paid. There was a nice mix of players and although the atmosphere was very friendly, make no mistake; the women were here to play some serious poker!
Golnaz Aghabeigi took the early lead but in the end, she couldn't hang onto her stack and she fell short of the final table. Danielle Bracy was on the leaderboard all day long and as play went deep she found herself on top of the pack. Christine Park, a regular here at Playground tournaments and cash games also started putting together a very healthy stack. Lisa Powell was the first to bustout early in the day but after re-entering she amassed a lot of chips and was a serious contender. Erica F., a solid player and another Playground regular was under the radar for most of the day but by the third break, she was starting to become a force to be reckoned with.
The pace was faster today then it was in the three previous events and by around 8:00pm, the final table was formed. With only the top seven players scheduled to be in the money, once play was eight-handed, a bubble deal was reached paying the eight place finisher (and Event #1 Champion), Crystal Abouhanna, $175. Brigitte Korak, a well known and well liked local player, was the unfortunate recipient of a cooler when she put all of her chips in holding pocket queens and found herself in a three-way pot against ace-queen and Erica F.'s pocket nines. Korak had no chance when Erica flopped quad nines, sending Korak to the rail in seventh place for $275. Next to go was Elizabeth Beattie who finished in sixth place, collecting $405 for her efforts today. Joy Benn was the fifth place finisher, having a $575 payday.
When play became four-handed the play was super deep with about a 60 big blind average, so the players looked at the ICM numbers and decided to go ahead and do a deal.  Decent money was locked up for each of them while they would still be playing down to a winner for an additional $300 along with the champion trophy and associated bragging rights. The ICM deal was as follows:
Erica F.: 822,000 chips, $1,980
Christine Park, 250,000 chips, $1,425
Lisa Powell, 126,000 chips, $1,140
Danielle Bracy, 195,000 chips, $1,313
Once the deal was made Christine Park was the next to hit the rail, collecting $1,425 from the ICM chop. After Park exited Lisa Powell was eliminated in third for $1,140. When heads up play began between Erica and Danielle Bracy, Erica had quite a substantial chip lead but Bracy was still in contention. Finally Bracy picked up pocket nines and moved her stack in to the middle, and found a call by Erica holding queen-ten. The window card was a ten followed by a queen, giving Erica two pair, and Bracy was drawing to a nine or a possible running straight. The turn and river were bricks for Bracy, and just like that, Event #4 of the Playground Women's Series crowned a champion, Erica F., collecting $2,280 along with the champion trophy.
Event #4 Champion: Eric F., $2,280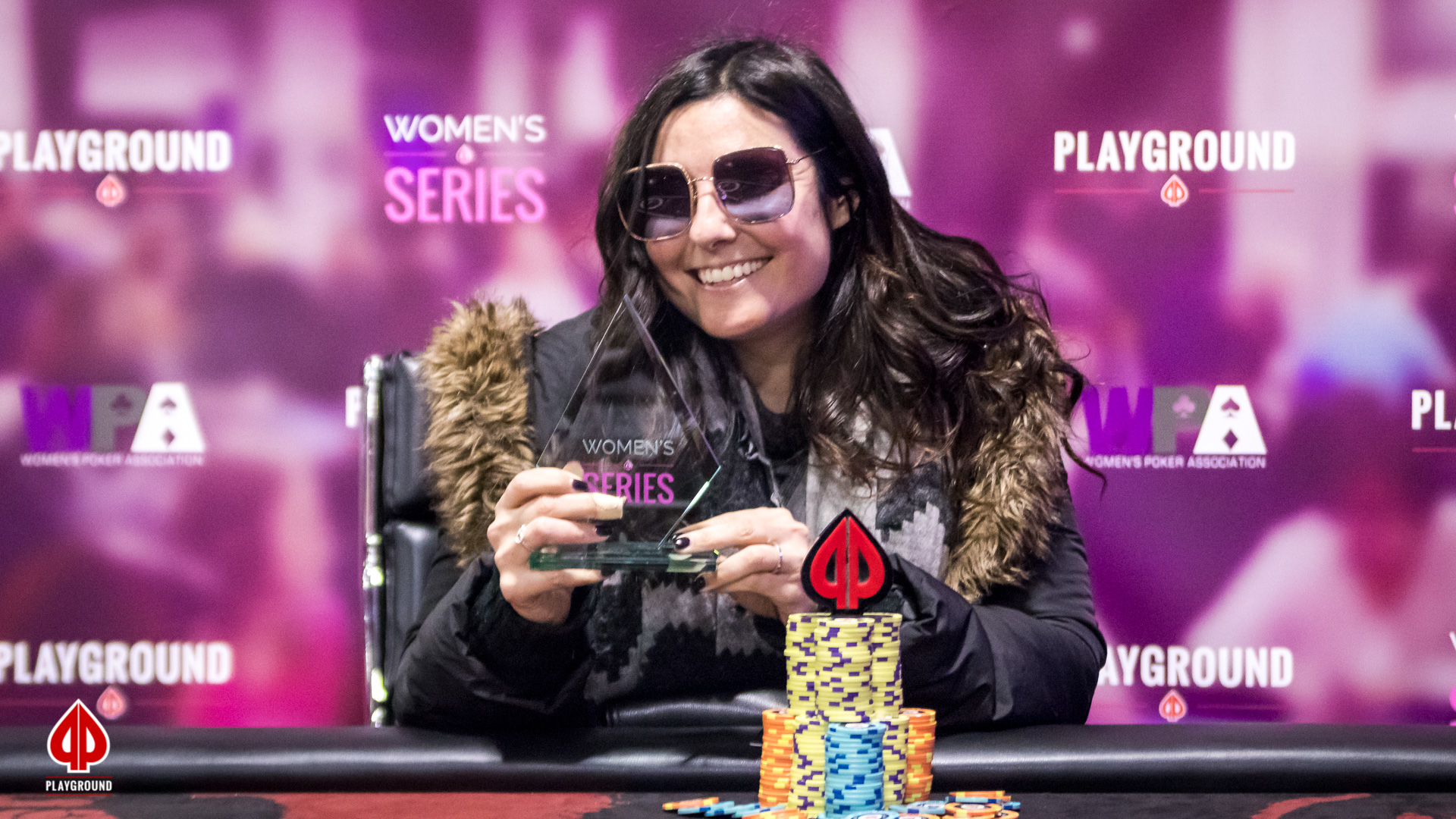 Second place: Danielle Bracy, $1,313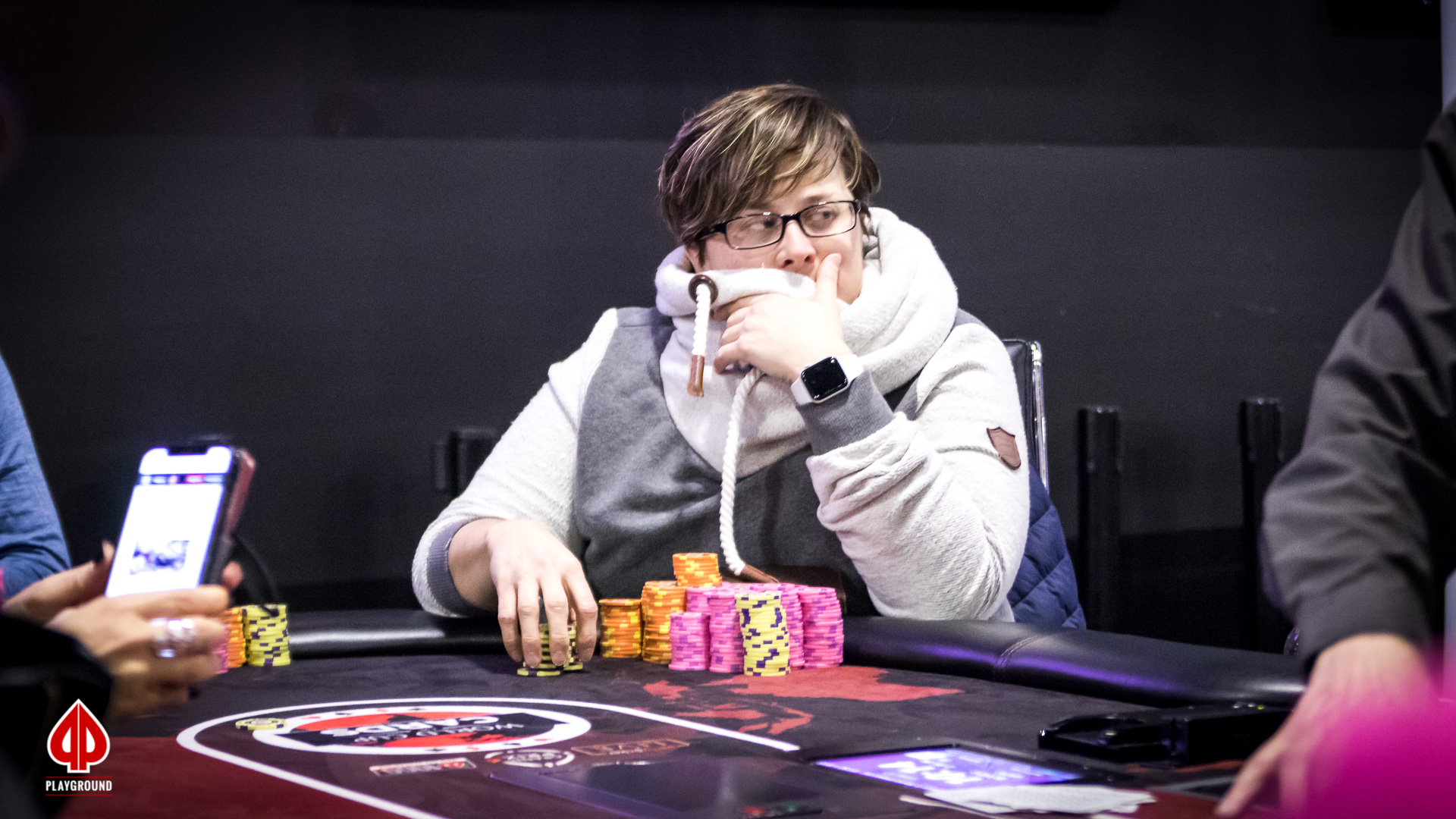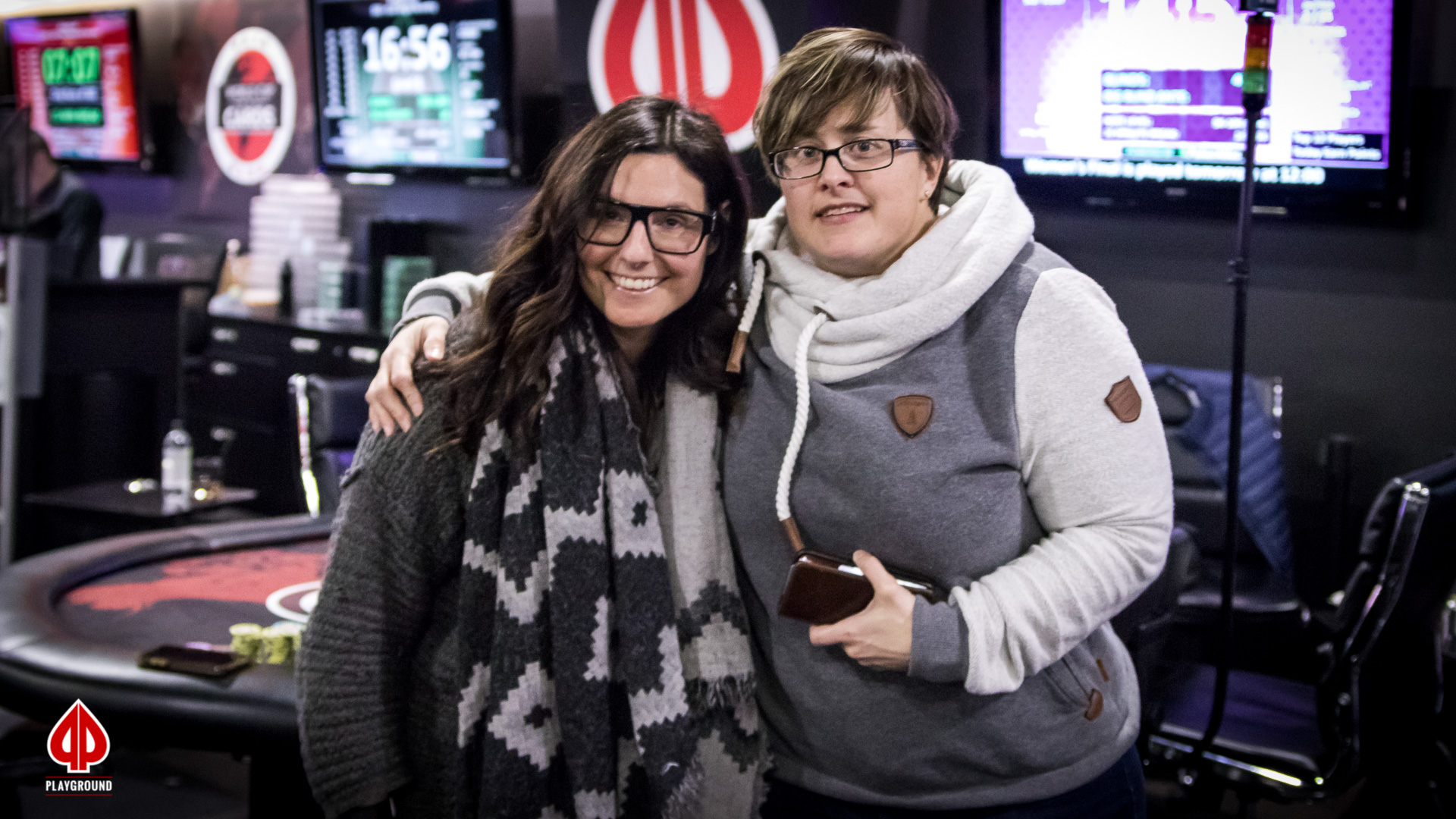 Here are the top 30 finishers on the tournament leaderboard who have qualified for the championship final taking place on Sunday January 19 at 12 noon:
| Rank: | Name: | Points: |
| --- | --- | --- |
| 1 | Crystal Anne Abouhanna | 1862 |
| 2 | Brigitte Korak | 1587 |
| 3 | Denise Lepine | 1397 |
| 4 | Cynthia Paquette | 1342 |
| 5 | Erica F. | 1324 |
| 6 | Lisa Powell | 1207 |
| 7 | Claire Briere | 988 |
| 8 | Kathy Sawers | 986 |
| 9 | Sylviane Cassini | 949 |
| 10 | Danielle Bracy | 936 |
| 11 | Karen L Greenwood | 865 |
| 12 | Julie Poliquin | 807 |
| 13 | Carla Ruggiero | 805 |
| 14 | Francine Baillargeon | 803 |
| 15 | Ginette Ruest | 775 |
| 16 | Dannielle Sangollo | 697 |
| 17 | Sheila Farrell | 671 |
| 18 | Christine Park | 662 |
| 19 | Pauline Briand | 625 |
| 20 | Therese Legault | 624 |
| 21 | Jasmine Marie Dopking | 600 |
| 22 | Joy Benn | 592 |
| 23 | Barbara Phillips | 570 |
| 24 | Geneviev Champagne | 569 |
| 25 | Giuseppina Arcamone | 548 |
| 26 | Elizabeth G Beattie | 541 |
| 27 | Brigitte Metivier | 528 |
| 28 | Natalia Nogina | 527 |
| 29 | Karen Beecraft | 507 |
| 30 | Manon Dallaire | 494 |
Seating draw:
| First Name | Last Name | Seat |
| --- | --- | --- |
| Karen L | Greenwood | Table 20 - Seat 4 |
| Erica | Freeman | Table 20 - Seat 8 |
| Crystal Anne | Abouhanna | Table 20 - Seat 9 |
| Christine | Park | Table 20 - Seat 5 |
| Kathy | Sawers | Table 24 - Seat 7 |
| Cynthia | Paquette | Table 24 - Seat 6 |
| Francine | Baillargeon | Table 28 - Seat 3 |
| Natalia | Nogina | Table 28 - Seat 9 |
| Genevieve | Champagne | Table 28 - Seat 7 |
| Manon | Dallaire | Table 20 - Seat 2 |
| Joy | Benn | Table 24 - Seat 5 |
| Dannielle | Sangollo | Table 24 - Seat 3 |
| Sheila | Farrell | Table 20 - Seat 3 |
| Danielle | Bracy | Table 24 - Seat 1 |
| Elizabeth G | Beattie | Table 28 - Seat 6 |
| Sylviane | Cassini | Table 28 - Seat 4 |
| Ginette | Ruest | Table 28 - Seat 10 |
| Carla | Ruggiero | Table 20 - Seat 7 |
| Claire | Briere | Table 20 - Seat 6 |
| Lisa | Powell | Table 28 - Seat 1 |
| Brigitte | Metivier | Table 20 - Seat 1 |
| Julie | Poliquin | Table 24 - Seat 8 |
| Jasmine Marie | Dopking | Table 20 - Seat 10 |
| Denise | Lepine | Table 28 - Seat 8 |
| Therese | Legault | Table 24 - Seat 4 |
| Pauline | Briand | Table 28 - Seat 5 |
| Brigitte | Korak | Table 28 - Seat 2 |
| Barbara | Phillips | Table 24 - Seat 9 |
| Karen | Beecraft | Table 24 - Seat 10 |
| Giuseppina | Arcamone | Table 24 - Seat 2 |