All throughout October, Playground will make the most of the spookiest time of the year to provide players a spellbinding experience. In the lead up to Halloween, Playground will be rolling out a month of hair-raising games, gifts and entertainment that is sure to give players goosebumps!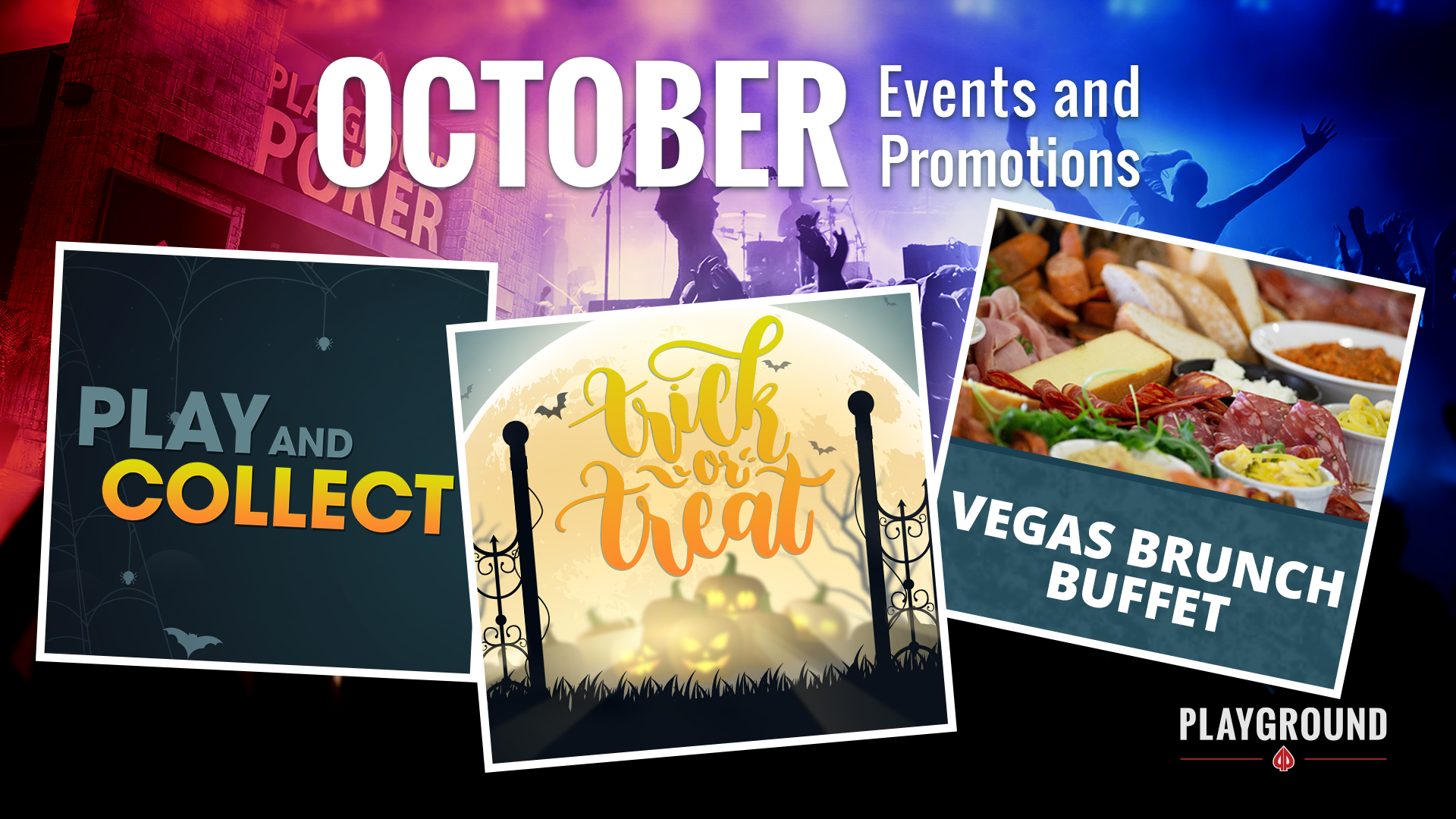 Trick or Treat
You don't have to wait for Halloween to Trick or Treat! All throughout the month of October, players will be lining up in the EGD section, hoping to pick the right pumpkins and fill their bags with prizes!
Trick or Treat is the latest game where EGD players can win amazing prizes like $10,000 in cash, a trip to Transylvania including a four-day tour on the Legend of Dracula or a new car – the 2019 Buick Envision!
Players can win the chance to play Trick or Treat through a series of draws, which will be held every Sunday in October as well as on Halloween. A total of fifty players will get the chance to play Trick or Treat, ten on each of the game day held throughout the month. Players will earn one raffle entry for every 250 Rewards Points earned in October or they can use their existing points balance to buy entries. 
Tuesdays will be a treat throughout the month because players will earn Trick or Treat raffle entries at five times the regular rate for their EGD play – that's right, earn one raffle entry for every 50 points earned on Tuesdays! Also, players will be able to receive entries at this accelerated rate during the last four days of the month, following the October 27 draw.
The game board contains 25 pumpkins, each with an envelope inside. Each envelope contains one of the seven symbols in play, and players will start by drawing five envelopes. Collect three matching symbols and win the corresponding prize! If players do not collect three matching symbols then they will have two options; either return two symbols and select another pumpkin or take $250 in free play. If, after the second draw, players still do not have three matching symbols then they will get one final chance to select another pumpkin or take $100 in free play. Along with lots of prizes come lots of ways to win! Trick or treat, the choice is yours!
Click here to read all the details. 
Play and Collect
Get the week started in style with Play and Collect Mondays! Every Monday in October, the first 80 players to earn at least 600 Rewards Points while playing any of our EGDs between 9:00am and 9:00pm will receive a free gift! Qualifying players will walk away with either a Swarovski stretch bracelet with garnet crystals, a Swarovski chain charm bracelet or an Ice-Pure watch. These gifts won't last long because they will be awarded on a first-come-first-serve basis and supplies are limited. Be sure to arrive early so you can leave in style!
Click here to read all the details. 
A Buffet and Free Play!
In October, Playground is also the place to be for brunch! Every Saturday and Sunday up to (and including) October 20, a Vegas-style spread will be served from 8:30am to 1:30pm. Anyone can enjoy the delectable brunch buffet to their heart's content for only $20, for Red level Playground members the cost drops to $15, and it is completely free for Black level members. Also, everyone who tries the buffet will get $10 in free EGD play!
Click here for a mouth-watering overview. 
Weekend Entertainment
From morning to night, the action never stops at Playground! On top of all the exciting events happening in October, including the WPT Montreal, Playground will be offering a series of shows that feature musical performances for all tastes and a special night for fight fans. On October 4, Rod Stewart and Tom Jones tributes will take over the stage to provide a treat for fans of rockers and crooners alike. On Saturday, October 5, it's time to pay homage to the authors of Saturday Night Fever, with Night Fever, an internationally renowned Bee Gees tribute, and the opening set will be performed by local artists The Better Half Acoustic Duo. On October 11, the stage will be set for a night of classic rock with local band Less Than 4 followed by a tribute to the legendary Eagles. On October 12, the musical acts will give way and let the ring take centre stage, as the WCA Strikers Series will present an evening of elite kickboxing. The following weekend, on October 18, country fans will get their due. Local artist Steve Creep will set the tone, and will be followed by Garth Brooks and Shania Twain tributes, two of the biggest names in country music. Get ready to stomp your feet! The last concert in this series will be on October 19. A tribute to the British Invasion with the Hi-Fins will relive the chart-topping hits that took the world by storm, and the act will be followed by a tribute to flamboyant legend Elton John. All musical performances will run from 7:00pm to 11:00pm. The WCA Striker Series event will be held from 4:00pm to 7:00pm.
Click here to read all the details.