The Rum and Coke drink was created in Cuba in the early 20th century, when Coca-Cola started exporting their sugary soft drink to the country. The drink's traditional name, Cuba Libre (Free Cuba), is a reminder of the strong American presence in Cuba in those years. It wasn't long before the Cuba Libre made its way north to the United States, and from there everywhere in the world. The drink, simply made with rum, cola, ice, and served with a lime wedge, reminds of hot Cuba and the warm summer nights by the beach.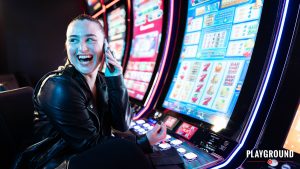 The icy Rum and Coke may be of great help when playing Flaming Hot, a game that will make you sweat! Five reels with 4 positions each will take you to a world of fruits punctuated with dollar signs, bars, and of course, 7s! The true fire comes on when five 7 symbols line up on an active payline, unlocking a flaming 1,000 times your line bet! Try the great spinoff 100 Flaming Hot. To find the games, ask an attendant!
Flaming Hot with Rum and Coke. A perfect match!
The next time you visit Playground, order yourself a Cuba Libre and find the Flaming Hot game… they go hand in hand!
Complimentary drinks while you play.