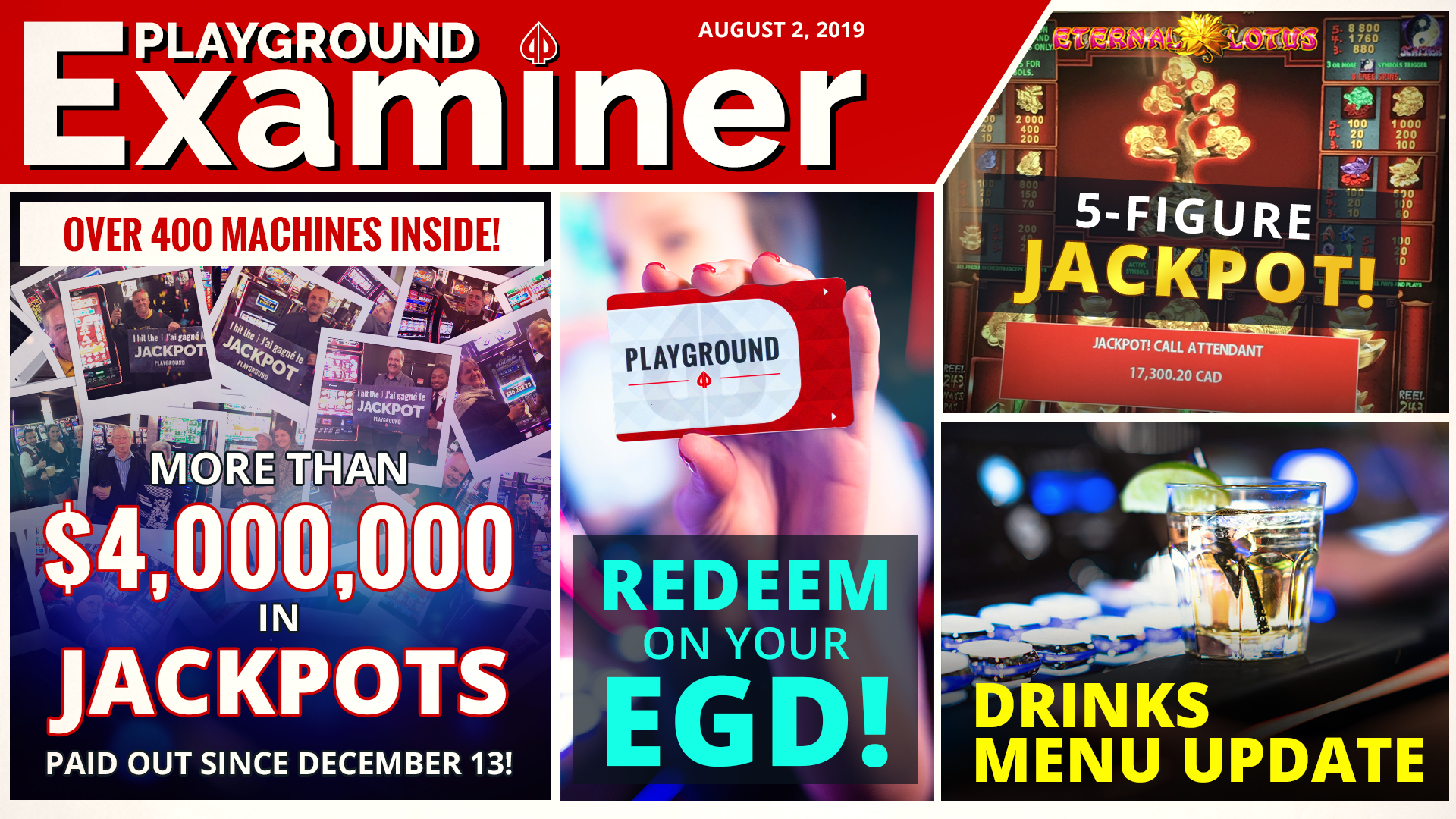 $4M in Jackpots!
The Electronic Gaming Space recently reached a new milestone payout that brought the total amount awarded through jackpots to over $4,000,000!
Since electronic gaming was initially added to Playground's offerings in December 2018, the machines have awarded countless jackpots, creating many happy players in the process. There have been plenty of five-figure payouts awarded since the doors first opened, but a couple stand out in memory. Both coincided with perpetually popular Playground poker events; the World Cup of Cards and the Power Weekend. 
The longtime EGD jackpot record was held by Franco S, who was playing Eternal Lotus in the wee hours of the morning on February 2, near the end of the 2019 edition of the World Cup of Cards. Franco's $8.80 bet brought four identical symbols together to unleash a huge jackpot of $28,791.93! Franco's record stood until early summer when it was surpassed during the May Power Weekend. Guylaine G had the good fortune of playing the right Quick Hit machine at the right time. Shortly before 11:00pm on a Saturday night, the symbols aligned to unlock Playground's largest EGD jackpot to date. Guylaine won $37,532.50! 
As with all other major jackpots, the EGD staff sprung into action to spread around confetti and Champagne to help Guylaine celebrate her victory. She joined Franco and many others in the club of EGD jackpot winners. This lucky group of people have received a total of more than $4,000,000 in payouts! Congratulations!
Redeem directly on your machine!
You may have noticed a pamphlet titled How to Redeem displayed at the Rewards desk at the entrance of our Electronic Gaming Space. It describes the steps to take if you wish to redeem Rewards Points yourself, directly at your machine. 
The process is also described on our website's Rewards page, under the tab How to redeem. This is a great way to extend a gaming session without leaving your seat. In a few taps, you can redeem your points for free play and take a shot at spinning this newfound balance into a strong one!
The Lotus is Eternal
It was a Monday afternoon. Juan R. walks the room and notices Fù Guì Róng Huá. The 2-game EGD, showing unbelievable graphics and such bright colours, grabs his attention right away. He sits down.
Presented with a choice between Empress Gold and Eternal Lotus, he picks the latter. Reels are spinning: fish, turtles, lotus flowers appear randomly. The Chinese artwork itself is enough to make time fly. At 3:51pm however, time stops! The Lotus, fully grown and ready for harvest, gives out the biggest Jackpot of the week: $17,300.20!
Not a bad way to start the week. Congratulations!
Drinks Menu Update
Playground recently updated its selection of drinks! EGD and poker players alike now have a wider selection of drinks to choose from while they play. Check it out here.
Beligian Moon makes its appearance on our menu. It is described as a medium-bodied, unfiltered Belgian-style wheat ale spiced with fresh coriander and orange peel. Tasting it is adopting it, and it's free while you play!
Vodka with your favourite mixing juice, rum with your favourite soft drink… whatever you fancy, we serve! Check out our premium drinks, which you can pay for with cash or Rewards Points. Unless, of course, you enjoy a Playground Rewards Black Status, in which case you can have anything on our shelf for free. Cheers!